WGP Raw Autococker Body Kit

Not everyone wants a stock Autococker. For those of you who want to build your own from scratch, here is where you need to start! This is an unanodized vertical feed Autococker body made by WGP. This body kit includes the front block, ASA adapter and threaded vertical feed. This body kit is ready for custom anodizing or milling and is ready to accept all of your accessories! Because this body kit is made by WGP, you can be sure that all of your aftermarker parts will fit! This is something the "other kits" can't claim! Buy the original! Buy an American made Autococker body kit by Worr Games!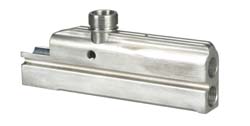 $150.00 Add to my cart!
Questions about this product?
Call us at 661-397-4477 or E-mail Bulldog Paintball